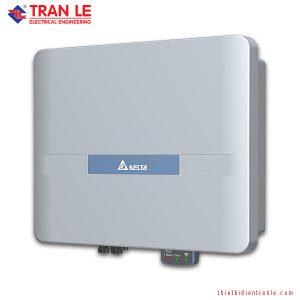 Solar grid-tied inverter 1Phase Delta with a capacity of 5kW Used for residential solar power systems.

This new Delta solar inverter product is integrated with a power meter to help control the amount of solar power generated by the system. From the main screen of MyDeltaSolar APP, users can easily check all the information at once.
With a maximum efficiency of up to 98.3% Delta solar inverter ensures optimization of solar power generated from the connected solar battery system.
Advantages of Delta Solar 1Phase Inverter:
Integrated power meter.
Wide input voltage range: 30 – 600VDC.
Maximum efficiency: 98.3 %.
Light weight, easy to install and save space.
Built-in Wifi connection feature.
Operate via app on iOS or Android platforms.
Low noise output with only 20 dB.
Online monitoring on MyDeltaSolar.
IP65 waterproof standard.
Contact wefor product advice and product quotation of 1Phase Delta 5kW Solar Grid Inverter:
View product specifications:`